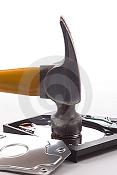 To na co mnozi dlouho cekali, co chteli, na co se tesi je tu!!
Bohuzel asi odesel na nasem hlavnim stroji disk, zatim to nevime jiste, musime zajid zitra do servrovny a zjistit to, co vime je ze ho nedetekuje system, tak drzte palce at to disk rozdejcha a podari se z nej aspon dostat data, pokud je toto popud abyste nam poslali nejake penizky na nakup noveho budeme radi a vy budete mit kde hrat.
Co se tyka serveru co tam byly tam nejde CoD, CoD ESL, CS FUN, UT2004, UT, ET a ET2, BF1942
CoD a ET dame snad jeste dnes na GP4 masinu, zbytek je zatim bez nahrady.
UPDATE: CoD server je na
81.31.26.190:28961 Gameparty.cz CoD Publick
CS Fun server
81.31.26.190:27015 Gameparty.cz CS 1.6 Fun